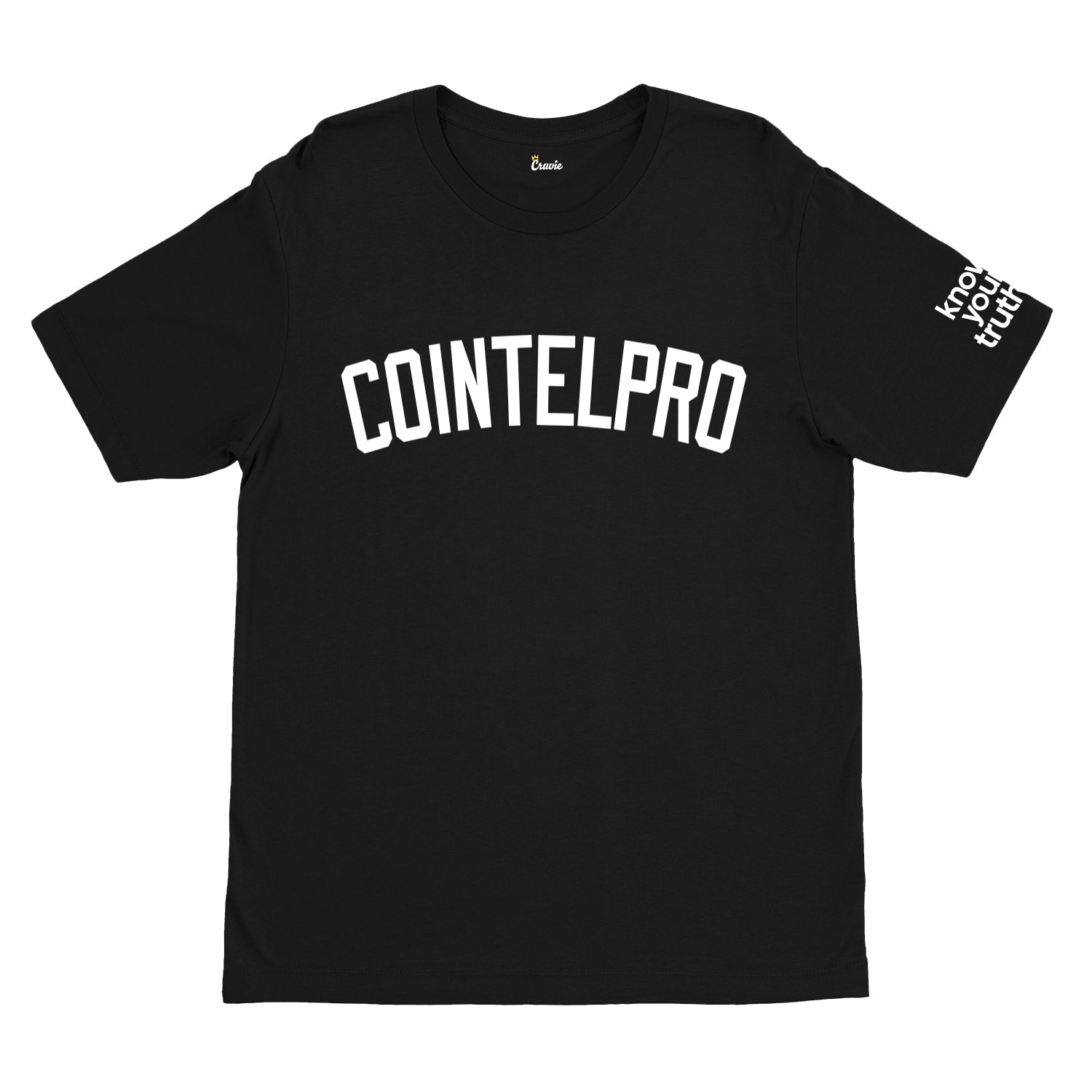 ---
---
Know Your Truth? collaboration produced by Cruvie Clothing Co.
COINTELPRO: 
Within one year of the formation of the Black Panther Party, the FBI established a special counter-intelligence program called COINTELPRO, to neutralize political dissidents. Between the years 1956 and 1971, the FBI used the COINTELPRO program to investigate "radical" national political groups for intelligence that would lead to involvement of foreign enemies with these groups.
This of course meant that the FBI specifically targeted American citizens. According to COINTELPRO documents, 5 groups were singled out for investigation - the Communist Party, the Socialist Workers' Party, White Hate Groups, Black Nationalist Hate Groups and the New Left. The Black Panther Party was specifically targeted and bore the brunt of the most damage.

4 Styles in Black:
Unisex T-Shirt
Unisex Tank
Hoodie (Men's)
Sweatshirt (Men's)
Interested in a different type of shirt or color? Click here to customize your tight-knit!
The Fit:
T-Shirts
Unisex/Men's shirt fit (Ladies should size down for a more fitted look)
Ladies shirt fitted (Ladies should size up with larger busts)
Hoodies & Sweatshirts
All hoodies and sweatshirts fit to true men's size. Not overly bulky but loose fitted.
Materials:
Printed on high quality poly-cotton blended tees that are soft and lightweight.
Process:
Each shirt is made to order
Heat pressed with premium vinyl
Your Shirt Care:
Wash inside out, using cold water, hang dry to maintain the quality of the print
To preserve graphics on garment flip inside out and iron on low heat.
Shipping & Returns:
Ships worldwide via USPS 5-7 business days after the order is processed.
Need it fast? Please
email
prior to purchasing and we will try to accommodate you.
---