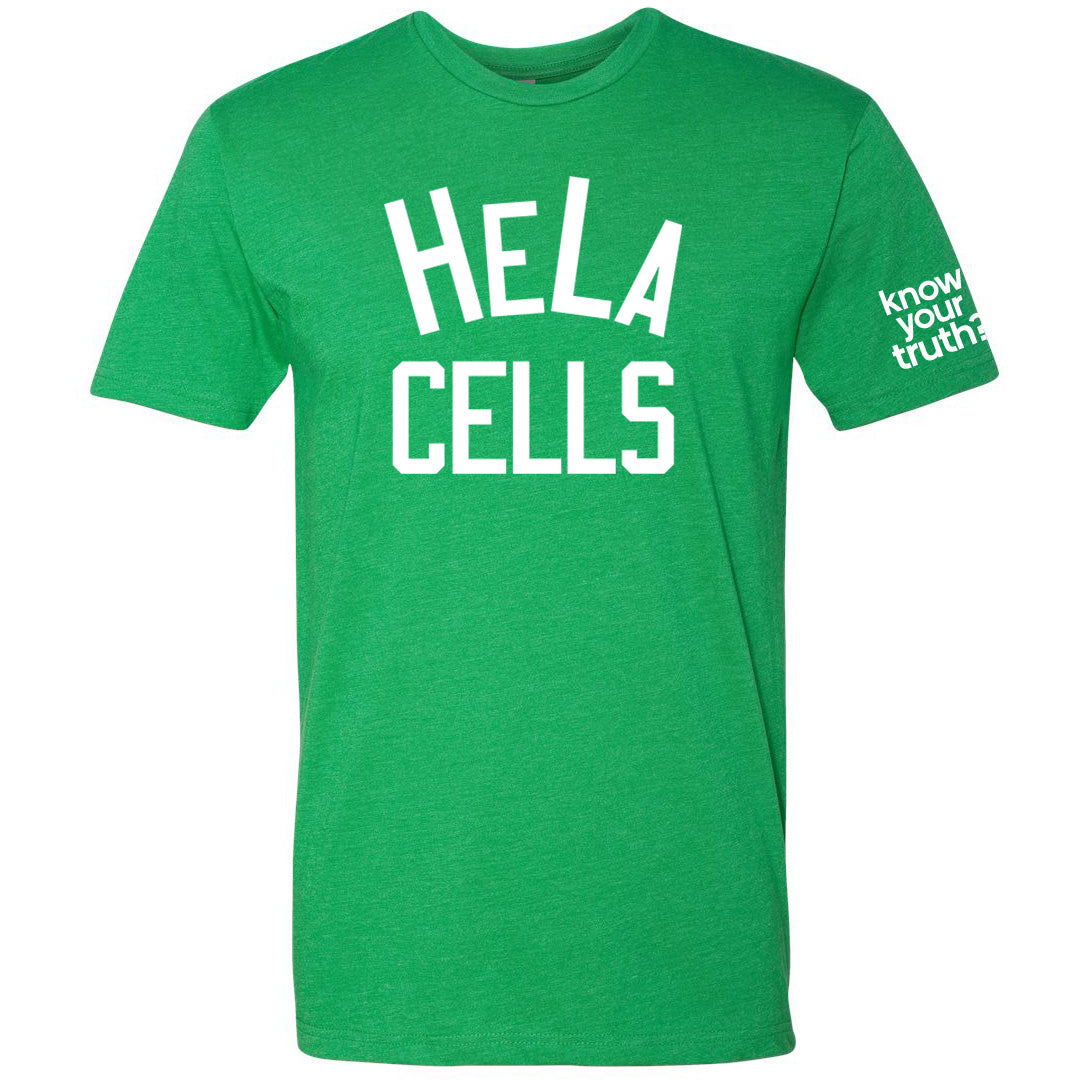 ---
---
Know Your Truth? collaboration produced by Cruvie Clothing Co.
HeLa Cells: In 1951, Henrietta Lacks, a 31-year-old African-American woman, went to Baltimore's Johns Hopkins Hospital to be treated for cervical cancer. Some of her cancer cells began being used in research due to their unique ability to continuously grow and divide in the laboratory. These so-called "immortal" cells were later named "HeLa" after the first two letters of Henrietta Lacks first and last name.
Since Ms. Lacks' untimely death in 1952, HeLa cells have been a vital tool in biomedical research, leading to an increased understanding of the fundamentals of human health and disease. Some of the research involving HeLa cells also served as the underpinning of several Nobel Prize winning discoveries.

1 Style in Green:
Unisex T-Shirt
3 Styles in Black:
Unisex T-Shirt
Hoodie (Men's)
Sweatshirt (Men's)
Interested in a different type of shirt or color? Click here to customize your tight-knit!
The Fit:
T-Shirts
Unisex/Men's shirt fit (Ladies should size down for a more fitted look)
Ladies shirt fitted (Ladies should size up with larger busts)
Hoodies & Sweatshirts
All hoodies and sweatshirts fit to true men's size. Not overly bulky but loose fitted.
Materials:
Printed on high quality poly-cotton blended tees that are soft and lightweight.
Process:
Each shirt is made to order
Heat pressed with premium vinyl
Your Shirt Care:
Wash inside out, using cold water, hang dry to maintain the quality of the print
To preserve graphics on garment flip inside out and iron on low heat.
Shipping & Returns:
Ships worldwide via USPS 5-7 business days after the order is processed.
Need it fast? Please
email
prior to purchasing and we will try to accommodate you.
---